European Tour June 2005
My bike is a 1997 vintage V10 Centauro and had 11,000 miles on the clock when I bought it in 2004 from Moto Strada of Shipley, West Yorkshire. I had been looking for a bike which would do a few thousand miles around Europe and would be reliable, economical and comfortable. Why a Centauro when the shop was full of touring stuff and the market is bursting with alternative long haul bikes you are asking? Well, the truth is I saw it and thought, "It's different, it's yellow and I like the look of it". What more can I say? All my criteria for touring and my common sense went out of the window. It's almost 18 months since that fateful day and I can honestly say I have no regrets.
After buying the bike I was very impressed by the aftercare and friendly advice offered by Jason Sutcliffe (the owner of Moto Strada). To find a good honest dealership that goes out of its way to give customer satisfaction and value for money is worth talking about. Jason fitted a Will Creadon Chip and did a few minor alterations free of charge over the first few months of my ownership. As the mainland tour date drew nearer and the mileage crept up to 15k (major service time) and the tyres got thin I decided Jason was the man for the job. For a West Yorkshire lad Jason is a bit of a rarity, he gave me a new indicator unit FREE, how good is that?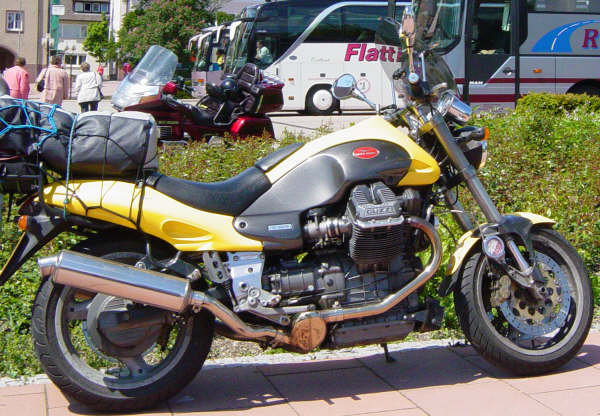 Packing was easy, a small stuffa-bag half full and containing all a travelling man might need for a ten day jaunt on the continent. So, all sorted I set off with my mate Ellis on his 'royal barge', a Gold Wing with all the lights and bells associated with the mark, his two panniers and a top box full of clothes plus a stuffa-bag containing his wet weather gear (do all Gold Wing owners travel like this?) We left York at 11:30 for Dover, travelling with Norfolk Line to Dunkirk (£58:00 return each) and hoping to land in France at 21:45 French time.
First hold up was a few minutes delay on the A64 before we joined the A1 with traffic nose to tail going at 70mph only to grind to a halt several times before the M11. Then onto the M25 followed by the QE2 Bridge, stop start all the way but the toll is free for bikes.
Our first use of the mobile phones came just after the bridge when I followed signs for Canterbury and M2 while Ellis followed signs for Dover M20. There was much frantic arm waving each suggesting the other had taken the wrong lane but at 60 mph in very heavy traffic with not much time to alter course each followed their own destiny. I, of course, was correct as the M2 is a superb motorway and even after two stops, the first for petrol and the other to buy a GB sticker (which I had forgotten about) and to text Ellis to say, 'meet at East Dock', I was there a good 10 minutes before him wondering if he was ok.
His arrival was announced by a wall of sound hitting me a good thirty seconds before he appeared. His mini-disc was blasting out through the four onboard speakers, some dance trash which he found soothing. A little embarrassed by being associated with this mobile disco I asked him to switch it off as we made our way to the check in gate.
French police just waved us through followed by a swift exchange of documents at the Norfolk Line booth. Too good to be true you ask? Yes, dear reader it was, because of fog in Dunkirk our ferry would be an hour late. Well, one hour late arriving plus an hour late setting off made for two very tired riders two hours late looking for a bed at 23:45.
Norfolk Line and their staff were very helpful. We were sent onboard first where we were met by two workers who secured our bikes at specific tie-down points and asked us if we were satisfied with how they had done the job! I don't know about you but this was a first for me having travelled with Brittany Ferries, P & O and other companies in the past I was not expecting such service, in fact being treated like dirt with no assistance or facilities for securing my bike has been a common experience for me. Also the food was good and at only two hours crossing time I was very satisfied, especially at journey's end when two more crew members un-strapped our bikes and asked if we were happy with the way they had been looked after.
It was at this point that we discovered that we spoke about fifty words of French between us and that I knew forty eight of them. Off into the darkness, practicing my baby French we fortunately found a hotel about a mile from the port and settled down for the night having parked the bikes outside the entrance. Next morning at 7ish we got up and inspected the bikes, nothing to report except a blown headlight bulb on the royal barge.
I had been concerned about how quickly the Centauro could consume petrol, averaging around 38 MPG on all my previous journeys with the odd excursion into the high 40s. However, having respect for the speed limits and the Gold Wing's inability to squeeze past trucks and cars, we had been going no faster than 65/70 and this right wrist restraint had improved the MPG into the 50s, well pleased or what, especially as I only have a 4 gallon tank (18 litres)
We started the European part of the trip correctly by buying bread and croissants at the local bakery. So we headed out on the highway, looking for adventure, well the D300 actually to junction 4 on the A26, this was to get Ellis used to driving on the right, it was his first time driving on the mainland. The A26 is a good road and surprisingly empty of serious traffic. We exited at junction 13, Laon (pronounced Lon), for lunch. Laon is situated on top of a hill and commands outstanding views over the surrounding area. We parked in the high town and did a brief walking tour before taking lunch at a pavement café in stifling heat.
If you are into Gothic then this is your place. The principal landmark of Laon is the Cathedral of Notre Dame, a medieval masterpiece built between 1160 and 1225.
Ellis is interested in First World War battles and was keen to see some places of interest. We had already passed some famous battlefields and I sensed he was starting to feel that I was going to bypass all such places. Well the truth is I wanted to get as much distance under my belt on this first day as possible but being the softy that I am I knew of a place which would suit him called the Cavern du Dragon which is on the D18 about 10 miles south of Laon. The road is called Chemins des Dames. This whole area was the front line for about three years so all that you now see, trees, farms, villages etc, is less than a hundred years old and is littered with graves and memorials to the fighting. This road is on a ridge and is straight, long and undulating, largely traffic free, which gave Ellis his first taste of touring on his own as I took off and enjoyed myself. We met up at the Cavern just as the threatening rain threatened no more and we got inside and avoided a very heavy shower. We spent some time looking at the French lines from the German fortified position before I put it to Ellis that we could visit the underground workings (official tour 1 hours) and spend the night in Reims or hit the road and see where we were at 5pm and then look for a place to stay the night.
The sky was black, a strong wind was now blowing from the South, it was cold and the threat of rain returning was a distinct possibility. Like a true biker he opted for the ride so off we went. Through the Foret de Vauclair to the N44 turning right for Reims, joining the Reims ring road in glorious sunshine and onto the A4 and then the A26 where we were met by a very black sky and lighting with rain by the bucket load. We stopped at junction 20 for petrol and to get out of the rain and lighting.
The Guzzi was performing well but I was not, my arthritis was hurting and it was almost 5pm. Just after we paid for the petrol the place suffered a lighting strike and all was dark for a few moments. Perhaps this was the opportunity for us to buy a map and consult it. A Mini Carte Routiere was on the shelf; this is a map of all France, which folds up to 4 X 3 inches, a most useful and timely purchase and for 2 euros 75, a bargain.
A friendly truck driver informed us that a nearby town (about 20 miles away) was a good place to stop for the night so, wet and cold, we moved in on Vitry-le-Francois. The mobile phone got its next call to arms as we lost each other in the small main square. A long story cut very short results in me finding a two star hotel with garage parking near the centre. Madam, it seemed to me, took great pleasure in taking a very long time to look through the room ledger, all the while casting an eye over the two dripping wet bikers standing in the lobby before replying to my request for a room for the night with, "It is possible". "It is possible", I said to Ellis and he replied, "Then make it so". So I did and got a good en suite room at the top of the building, garage and breakfast all for 25 euros each.
Next morning, after breakfast and before 08:30, we are off on long straight deserted roads, the D396 and the D443, in bright sunshine through the Parc de la Foret d'Orient to the A5 at junction 22. Oh what joy, mile after mile of first class biking roads, the smells, the crisp fresh air and the Guzzi motor purring away, splendid. Then all too soon it was on the motorway for the long slog to our 5 pm stop time which found us in a small town called Belley on the N504 East of Lyon, near Chambery. We were averaging 50 to 55 mpg just taking it steady in the sunshine, petrol was around 7 cents cheaper in the local garages than on the motorways but that's normal wherever you go. Another thing that seems to be normal is large numbers of Harley riders going from one extravaganza to another, in large groups accompanied by support vans and cars! Also the ubiquitous, all in black, legs and arms outstretched riders with small black helmets riding black and chromed especially loud Harleys who precede the main group. These guys don't talk to other bikers, just stand around looking grim. Ellis and I had a few tries during the day with different groups but Harley riders only talk to Harley riders, and the drivers of the support vehicles of course, as they load-up and off-load broken down Harleys that had not managed to make the last leg. That's being a bit unfair I know as most bikers do wave at each other and are, by and large, friendly towards fellow devotees.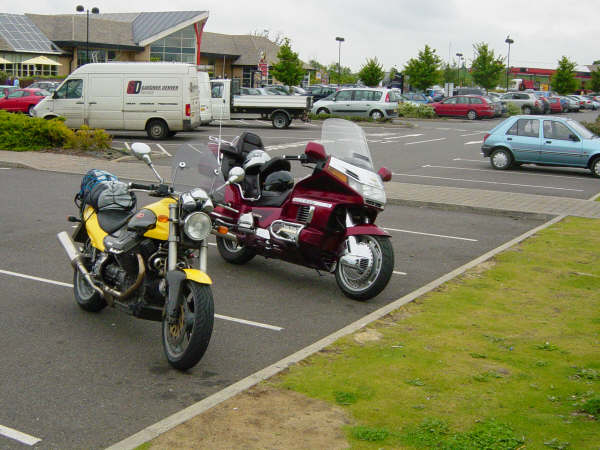 Back to Belley, a small town with a good centre, bars, cafes, restaurants and shops, what more could you want, a hotel perhaps? After going round the main roundabout twice and a few side streets followed by the mobile disco I was feeling a little bit conspicuous so by chance I stopped opposite a hotel, which looked shut. Above the noise I shouted to the royal barge driver that the hotel was closed at which point a man poked his head out of a first floor window, waved at me and pointed down the street to an opening. I waved back, walked over the road and was met by a scruffy little man whose English was worse than my French but we managed to establish that we could park the bikes in the loading bay and that a room en suite for two with breakfast would cost us 18 euros each. The room was, of course, at the top of the hotel and the view was not one to talk about but hey, lets shower and eat pizza, a change after the previous night's gourmet meal. So another pleasant evening chatting and joking with the locals was had before collapsing into bed. All this riding is very tiring work don't you know!
Day three saw us arrive at the foot of the Petit St Bernard pass, not by the route we had planned, but as we were not big on planning, no problem. The day started with me taking the back road out of town and getting lost which resulted in travelling on some fine country roads on a beautiful Sunday morning looking for Chambery. As we emerged from the Tunnel du Chat on the D504, into bright sunlight and onto a tight right hand bend situated very high up a mountain overlooking Aix-les-Bains and Lac du Bourget we were forced to stop for a photo'. The view was wonderful, the far distant snow capped mountains, our destination somewhere there, the lake far below to our left and Chambery straight on about half an hours ride away hidden in the distance.
Another fine morning's ride was spoilt by me entering Chambery and, not thinking about road numbers or destination, getting us lost, which was not a disaster, just annoying. Anyway I realised we should be following signs for the Frejus tunnel (we did not know at the time but it had been closed due to a fire). Eventually leaving Chambery behind we sped off on the A40 and the tunnel closure resulted in a most amazing drive as we travelled on a virtually traffic free motorway. We had the road almost to ourselves to a point that it became worrying. As we approached the turn off for the tunnel there was no other traffic around but then a crop of newly positioned diversion signs sent us to a side road where a very large police presence was positioned in the centre of the road and right round a roundabout to direct any tunnel traffic back to Chambery.
We followed the N6 to Lanslebourg-Mont-Cenis, planning (that word again) on going over the Col d'Iseran to spend the night at Bourg-St-Maurice, only to be told by a friendly man at a petrol station that it was shut (the Col that is) due to a recent heavy fall of snow (snow in June?). We would have to go back 40 miles, pass all the nice police officers, speed along the near empty motorway to junction 28 to then go over the Col de la Madeleine which the nice man thought was open and work our way to Bourg-St-Maurice that way.
Ellis, the royal barge pilot and disco king, can have the word 'hero' added to his many titles as this ride was, for a Goldwing, a nightmare. The road up to the Col was at some points around 6ft wide with 180-degree bends, steep inclines, snow and fresh chippings all the way up to the 2,000 metre summit. Never once did the music stop or the lights go out, he may have had to put the odd foot down but I was impressed. Going down was better, no chippings but a long ride. It was now getting cold and I was tired and the arthritic pain was starting to make me irritable so it was with relief that we entered Bourg St Maurice.
This is a ski and walking resort and I think we arrived before the summer season had started. However a good restaurant was found and when we returned to our hotel, a sort of Swiss ski lodge type of place run by a Swiss couple (not cheap), at least ten bikers from around Europe had arrived while we were out. We managed to have a bit of an international chat about the different bikes in the parking area before retiring to our very small wooden Swiss style chalet room and the next morning we had a very efficient Swiss type breakfast.
It was good to set off up the Pettit St Bernard pass in the clear morning air and bright sunshine to cross into Italy. It was hard work getting to the top as the road was very steep and it got very windy and cold as we climbed higher with mist and light rain spoiling the view. Once at the top we found the snow was quite thick and there were a number of people skiing and playing in the snow. I thought a little celebration was in order but as there was no café open at that time we drove down the mountain into a small Italian village and the welcoming Ippo Café. We had Italian coffee and croissants served by a very nice young man who spent some time asking me how I would like my coffee and then explaining the different types of croissant available for me to choose from. Do I speak Italian? Need you ask, but all very entertaining and in the morning Italian sunshine all seemed right with the world. We headed down the valley to Aosta dodging under the autostrada and along highway 26, noticing a different feel to the pace of life as we warmed up in the midday sun. We soon found the road leading to the Grand St Bernard Pass and followed this higher and higher. The bikes were doing well with no problems and fuel consumption was still in the mid 50s so onward and upward to the summit and Switzerland. We had to stop at the border and buy a motorway pass for around £18:00 each (robbers). The small lake by the checkpoint was frozen and covered with snow and we decided to move on as the weather was getting worse. No celebration here either.
The views were masked by cloud and mist which made for an uncomfortable ride and by the time we arrived at the first Swiss village it was raining. At around 2pm we stopped at a motorway service station and had lunch. A fantastic place, situated by a lake, air conditioned with shops, lots of glass, clean toilets and a very large choice of hot and cold food, but pricey. Never mind, my treat as I had some cash left over from a previous trip and I thought it was also time to buy another map and talk about where to stay the night. Breakfast in France, morning coffee in Italy and lunch in Switzerland how about dinner in Germany? Can we do Switzerland by 5pm? Well yes, we thought we could and if I could have followed Swiss motorway signs we might have done it.
After a detour or two in the rain, tempers getting shorter as the wet and cold advanced through my clothes, we arrived in Rinefelden (Swiss side) and a kind chap directed us to an old family run roadside motel (very German). The lady showed us where to park and gave us a very smart room. Evening meal and breakfast came to 33:00 euros each, not bad I thought considering the amount we had to eat and drink. Next morning the lady cleared the rain off the bikes before we left, she must have been impressed with Ellis's fluent German, as I was when the time came to pay the bill. It turns out that he can count from 0 to 100 in German, but I had to do the conversion from Swiss Franks into Euros! Rinefelden is also where we bought the cheapest petrol of the trip around 70 pence per litre.
We crossed the Rhine into Germany and turned right, heading east to join the road numbered 500 which runs up to Baden-Baden (BB) through the Black Forest. This road, I was told, was a fine biking road which had to be travelled if a person was ever in the area and I can confirm that it is a very good, fast road with some local traffic but not enough to get in the way.
Then we were climbing on a tree lined road past lakes and small villages in clear sunlight but windy and cold for this time of year. Not a sign of protest from either bike as we motored along in the clear crisp German air. We stopped at Titisee for a coffee and cake, a small village on the lakeside, a tourist spot, an upper class Windermere all very German and correct. It was market day so we had a wander round getting the blood flowing ready for the next part of the ride to Freudenstadt for a late lunch.
The road to Freudenstadt via Triberg was very demanding, lots of bends, dips, trees and shady corners to watch out for. On this road it would be very easy to get carried away with oneself and believe your own abilities are better than you think. There is a long descent into Triberg town centre. We thought that there was a festival of some sort there as there were large numbers of people crossing the road in front of us but in fact there was a house fire and they were watching a hydraulic platform and three fire engines with the crews trying to gain entry into the burning roof.
Still heading for Freudenstadt the weather was getting colder but still sunny, traffic was light which made for some pleasant touring and we soon arrived for afternoon coffee, lunch would have to wait. We found a biker friendly café next to the main square which had a fine array of dancing fountains rising up from the pavement. We had a chat with the owner and he told us that he was a biker and was always pleased to find a place where he could park up, relax and enjoy a break, so hence the sign (see photo).
We were heading for the highest part of our journey in Germany, this part of the road is about 1000m above sea level. Looking left towards the Rhine valley and beyond the views were magnificent. Why was this so in a forest? Well for some reason over large sections of this part of the 500 the trees have been cut/cleared exposing the road. It was like riding on the tops of the trees, we could see every bend and curve coming up and where it was leading instead of wondering if it was a 45/90/180 degree turn. The royal barge was also being given some gun, Ellis found this stretch of road from Freudenstadt to BB very pleasing and if I were going to pick a best biking road this would be up there in my top five.
We thought we would stay the night in BB but did not realise that it was a very large town. It also had a pedestrian area, enough said!. A loose part of the plan was to travel down the Mosel River which would mean another days driving North and a left turn at Koblenz, not a problem as we had enough days left to do it but could we last the pace? We were both very cold, the sun had no warmth and BB was in its rush hour. It was 5 pm so we decided that we should push on into France and spend the night there. Over the Rhine once more to be met by a very strong police presence scrutinising all who entered La belle France. After the river crossing it was first left and carry on to the second village where we found a small hotel and, for 28 euros each, we received an en suite room with breakfast and covered parking for the bikes, not bad. That night in a small restaurant over a large meal we finalised our plan of attack for the last part of the journey, Verdun!
The owner of the hotel had told us that the weather was not going to get any better to the North and East for the next week but France should get warmer, so Ellis, armed with this news and full of concern for my pain, explained how two days resting in the warm French sun would do me good and he coincidently had always wanted to visit the famous battlefield town. Feeling warm for the first time that day and full of food and bonhomie I agreed.
From the Rhine one works one's way across country, around Haguenau, onto the D421 to the N4, and then the D955 to Metz. What a surprise, the D955 was another good road in the middle of nowhere. Duel carriageway in places, long straight stretches, no traffic, an absolute joy. We almost felt like returning to do it again, it was so good. Through Metz, got lost, eventually finding the A4 to arrive in Verdun around 3 pm in very warm sunshine. The tourist information office was very helpful and directed us to a hotel in the centre of town. It was basic but good, again top floor, but cheap, so we booked in for two nights. The town itself was friendly with a good café/restaurant quarter next to the river and most importantly we did not have to spend a fortune to be well fed, so thumbs up for Verdun.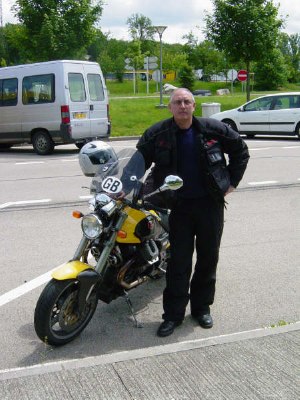 The whole of Verdun is a monument to battles of the First World War that were fought on the surrounding hill forts which overlook the town. There is not much point in me trying to explain all the sights we saw on the official tour the following day (all in French). Thankfully the weather was warm as the mood was cold, very interesting but so, so sad.
And the last day was upon us, back to Dunkirk by motorway, very boring, broken up by stops at good French service areas. We arrived at Loon Plage and booked in at the same hotel where we had spent the first night.
The next day we arrived at the Norfolk line terminal after filling up with cheap petrol and expecting to buy breakfast, big mistake! Not even a tea machine, just a shop selling basic foodstuffs for truckers. Once on board we were treated to the same personal service as on the way out, bikes looked after by caring staff and breakfast was fantastic.
All too soon we were back on the English road system, I had forgotten how busy it was compared to the almost traffic free ten days we had just experienced, now back to reality.
So how did the bike manage 2,300 miles in nine touring days? Very well, is the answer. Nothing broke; tyres (Pirelli Dragons) were good in all weather conditions and road surfaces; fuel consumption averaged 50-mpg; no significant amount of oil was used and "my bum was not numb" (try saying that in a French accent). So buying the Centauro was not such a bad choice for touring after all.
Thanks to Jason at Moto Strada and Ellis for the party.
Mick Brighton.
mickyb333@hotmail.co.uk